13 Feb

How to choose the best winter cycling shoe covers

Shoe covers are very important cycling accessories that allow you to avoid freezing your feet while cycling. But not all models are as suitable as others for your case. How to choose the right winter cycling shoe covers for you?

Why choose cycling shoe covers?

Generally, the attention of first-time cyclists is about how to protect arms and hands from the weather, but feet also require similar attention.

Feet are very sensitive body parts that can suffer from icy winds and low temperatures when exercising outdoors in the less warm months of the year. Compared to when walking, they remain less active and less able to get warm, but equally exposed to the wind.

Because of vasoconstriction, when the temperature is low, less blood reaches the extremities of the body and the cold sensation increases.

The perception of cold depends on both subjective and objective conditions. In addition to the actual temperature, one must also take into account the degree of humidity in the environment in which one is cycling and the wind. Weather conditions can make cycling more or less comfortable, so one must be prepared by wearing cycling accessories that can protect against intense cold. In fact, cycling shoes are generally lightweight and breathable, allowing your feet to receive plenty of air, and without proper protection the cold is likely to make itself felt.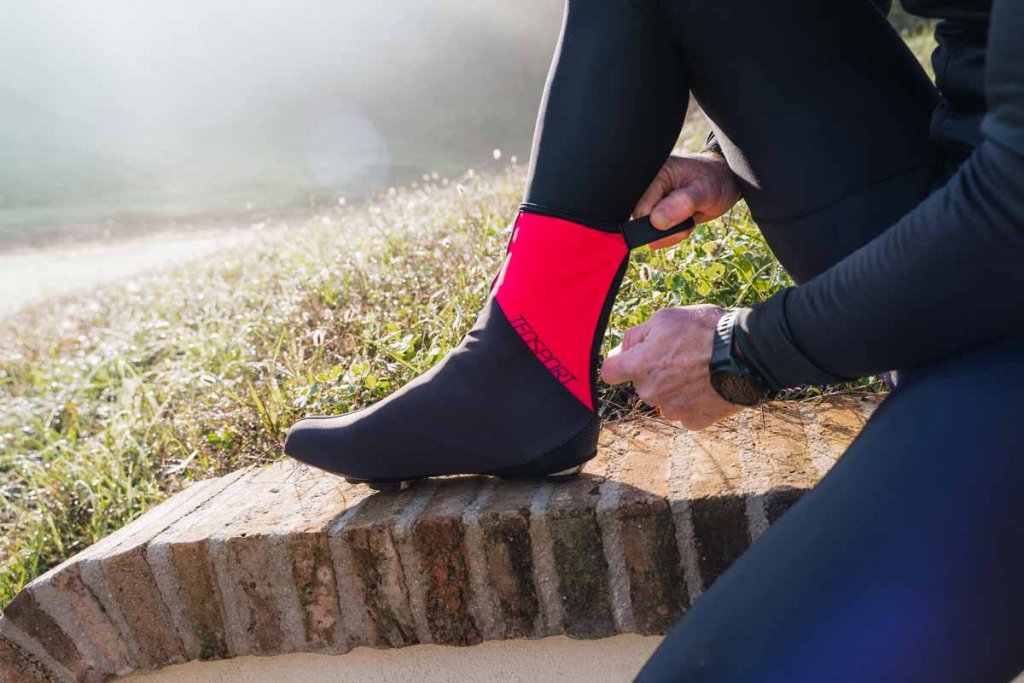 What bike shoe covers are for in winter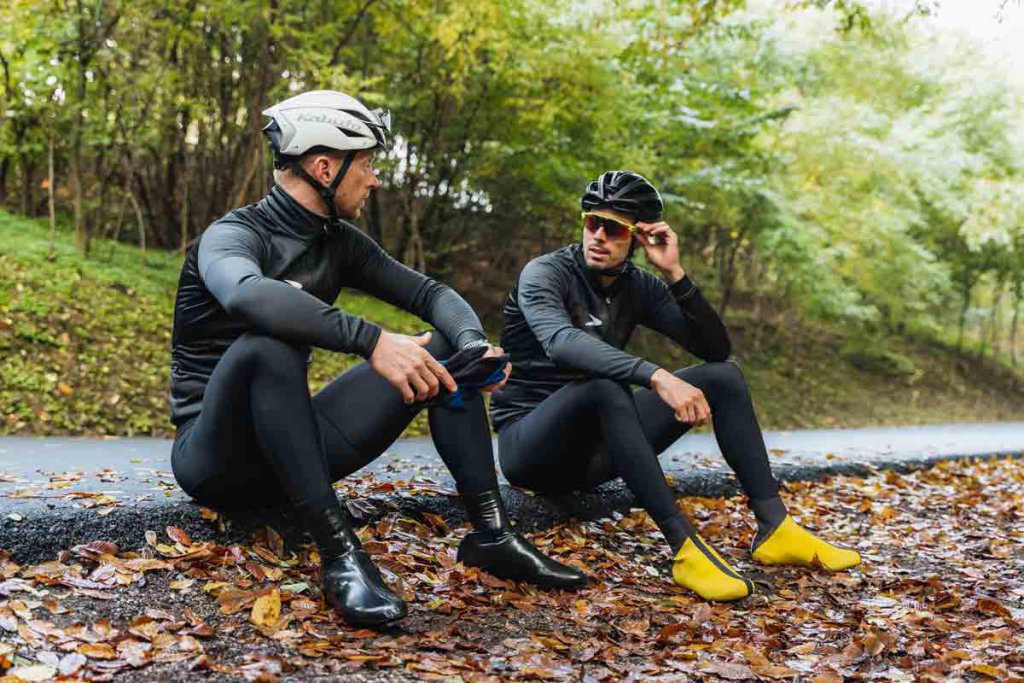 Shoe covers are really useful items that allow you to defend your feet from the cold when cycling during the winter months. They have a very narrow and tapered shape, like precisely that of cycling shoes. A shoe cover is attached to a single body, like the cyclist's shoe, so it is usually easily removed by the zipper or Velcro present.

They are advantageous accessories for cyclists especially when the temperature is not excessively freezing, for example between 4 and 13 degrees Celsius. They can also be easily slipped off, such as when environmental conditions no longer require them, storing them in a bag or pocket for when they are needed again. However, they can be uncomfortable to wear and make it difficult to take action on the shoe's closure tension on the move.

Shoe covers for MTB, gravel or road bikes are a very convenient accessory, as they allow cycling in cold weather without the need to buy winter shoes.

How to choose winter cycling shoe covers

There are shoe covers of countless shapes, models and sizes on the market, with more or less marked windproof, rainproof and thermal insulation features.

Shoe covers must be chosen by paying attention to several aspects including:
quality of materials
size
fit
breathability
wind protection
thermal insulation
waterproofness
night visibility
zipper closure
compatibility with winter cycling shoes in use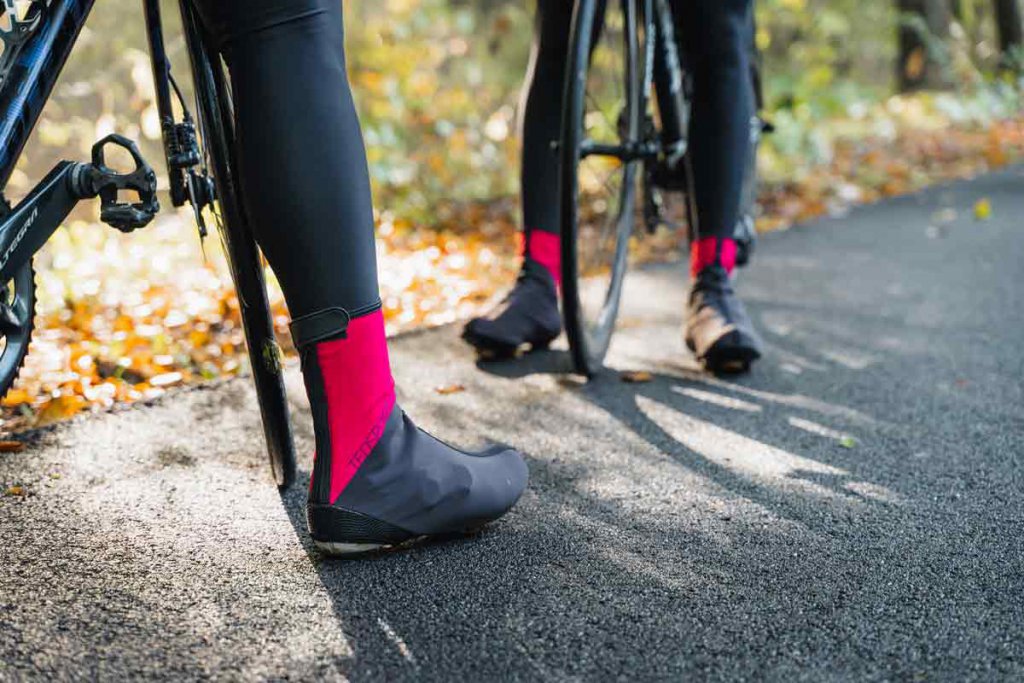 More generally, shoe covers should be suitable for the weather conditions of the time and place where you are cycling. Certain geographical areas or days may have different characteristics from the average winter.

It should not be assumed that all shoe covers with insulating characteristics are suitable for winter cycling. Moisture-proof ones, for example, precisely defend against rain and water but are not specially made to protect the extremities of the body from the cold.

A professional cyclist needs a shoe cover that offers both thermal insulation and waterproofness as well as protection from cold air and low temperatures. They also need to be models that are easy to put on and take off.

Cycling shoe covers clearly need to conform to the size of the bike shoes being worn. Generally, those best suited for a given cyclist will fit snugly over the shoes he or she wears, without risking slipping or loosening. This is why it pays to base on the size of one's shoes and choose slightly larger accessories, that way they wrap around the footwear perfectly.

The durability of the shoe cover is influenced by the kind of materials it is made of and its shape. Polypropylene models are ideal for cycling in winter since they retain heat but allow sweat to escape.

It is also important to know the area in which you consider cycling. Somewhat humid territories will require shoe cover models more oriented to defend against moisture.

The best cycling shoe covers for the winter months

There are many types of cycling shoe covers on the market from which you must choose the one best suited to your case. Neoprene models are designed to cover the toes and protect the toes from the cold. Lightweight shoe covers rest on top of the shoes and reach to just above the ankles, protecting the feet from the early fall chill and dust, but are not recommended for real cold weather.
True winter cycling shoe covers offer excellent protection from wind and moisture in the winter months. There are even more frost-resistant versions made from GoreTex and or materials with 3D construction, but only cyclists who face extremely freezing temperatures resort to them.

Our classic winter shoe cover model is the optimal accessory for riding even during the coldest months of the year.

Thanks to its bi-elastic fabric with WR (anti-rain) treatment, and a soft fleece on contact with the shoe combined with a windproof membrane, Winter Classic helps chase away the feeling of cold from the feet of those who pedal. It also features siliconized insoles to reduce the risk of slipping, and reflective rear zipper that increases the cyclist's visibility during evening hours.

Airtech shoe covers are cycling accessories that keep feet warm in both fall and winter, thanks to waterproof insulation taping and special fabric applied to a membrane.

Airtech shoe covers are made from a special 3D fabric associated with a membrane and are ideal for countries with really cold winters. Their main feature is to preserve body temperature, so it is always recommended to wear them before going outside. The front houses insulating taping to provide insulation from water, while the back has a reflective zipper that gives excellent evening visibility.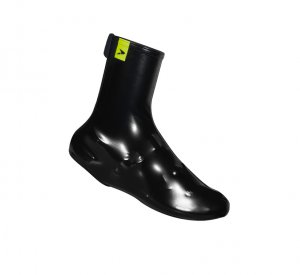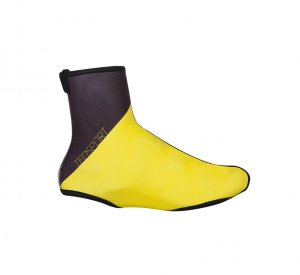 Get ready to forget the cold when you ride your bike! If you need advice on the best winter cycling shoe covers